Fhoenix Saddles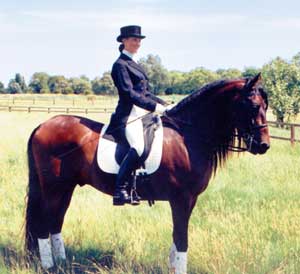 Introduction
Fifteen years ago, Heather Moffett designed the Seatbone Saver saddle pad, in recognition of the problems many riders face in comfortably attaining the correct classical seat in conventional saddles. The memory foam used was also an ideal material for the formation of saddle seats, so Heather began to design her own saddles using this, a seamless seat and set-back stirrup bars. All this combined to give the rider greater comfort and security while enabling them to sit effortlessly in the correct ear/shoulder/hip/heel alignment.
Our concept saddle, the Fhoenix, is a revolutionary design unlike any other saddle on the market. The manufacturing process is unique in saddle-making, unlike with other "treeless" saddles where there are solid components front and back, the Fhoenix only has a small rigid cantle ensuring that the gullet does not collapse, also improving the stability and conventional look of the saddle. The rigid cantle can be felt by neither horse nor rider.
The whole seat and flexible front arch are made from 45mm thickness of the Seatbone Saver memory foam, into which the rider sinks, giving great depth of seat and exceptional comfort. Unlike most treeless saddles on the market, the design features a 'twist' enabling the rider to drop the thigh deeply, and not feel straddled, especially on a wider horse. The 'twist' and core are built up from layers of materials, tested and chosen for their shock absorbing and pressure resisting properties. This enables the saddle to flex with every oscillation of the horse's back, giving great freedom of movement, with no restriction of the shoulders or hindrance of the lifting of the horse's back.
With the moulded panel saddle, the replaceable panels are designed to give a traditionally gulleted underside to the saddle, but designed in a way to permit additional padding to be inserted into the front arch to give clearance for very high withered or atrophied horses. With the suberpanel saddle, the whole panel is replaceable and washable, offering unparalleled pressure distribution. New Fhoenix saddles are sent out with both a thicker and a flat set of panels.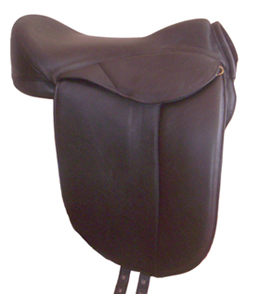 The Fhoenix offers unrivalled comfort to both horse and rider, combining the best 'Multifit' flexibility and characteristics of a treeless saddle, self adjusting to the fit of almost any horse, but with the rider support of a treed saddle.
THE FHOENIX DRESSAGE IN BROWN SOFT
ITALIAN HIDE.